Let's do it again!
Help us plant 5,000 MORE reasons to smile! and play a vital role in Project Daffodil

Help us expand the experience
Magnificent photo opportunity for you, your family and the entire community

Join us to plant a spring spectacle
Bring your family for some outdoors fun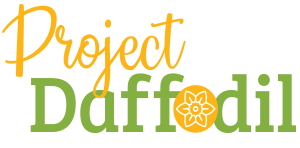 Daffodils are a universal symbol of rebirth and new beginnings. You can help us create a magnificent gateway into downtown St. Charles and demonstrate this to the entire St. Charles community in three ways:
On October 21, 2023 we will be planting 5,000 mixed daffodil bulbs and 150 Virginia blue bell plants to the south of Mr. Eggward to expand this dynamic landmark of exceptional beauty each spring along the Rt. 31 entry point into downtown St. Charles.
Locally owned business supports Project Daffodil ... and you can too
As the Presenting Sponsor, locally owned and operated Heinz Brothers Greenhouse Garden Center has once again generously agreed to insure Project Daffodil builds upon the success of the 2020 inaugural planting. The River Corridor Foundation of St. Charles plans to continue to "grow" this effort over time and plant 5,000 bulbs each year to reach 20,000 bulbs. You can play a vital part in creating this enduring spectacle in three ways. You can choose to be a Sponsor, make an individual donation, or Volunteer to help plant on October 21st. Or, do all of the above.
The Location of Project Daffodil — Mount St. Mary Park.
A beautiful slice of green space just south of downtown St. Charles, IL, on the western banks of the Fox River.
SponsorPLATINUM


$1,500

Brand recognition in editorials
Logos on all printed advertising
Includes benefits of a Gold Sponsor
SponsorGOLD


$1,000

Logo hyperlinked on all e-Blasts
Includes benefits of a Silver Sponsor
SponsorSILVER


$500

Logo hyperlinked on website
Includes benefits of a Bronze Sponsor
SponsorBRONZE


$250

Logo on day of event signage
YES! Sign me up as SPONSOR!
Become a Donor
Make a donation to support this and future projects of the River Corridor Foundation of St. Charles. The foundation's contributions to St. Charles include the "Wind Emotions" sculpture, the "Bob Leonard Walkway" and shoreline naturalization, the "If But I Could Fly" sculpture and the proposed Active River Project. The River Corridor Foundation of St. Charles is a registered 501(c)3 non-profit organization.
Simply click on your preferred level of giving:
YES! Sign me up to DONATE
Become a Volunteer
It will take a flower power army of volunteers to plant 5,000 bulbs in one day!
So we've made it easy for you. Simply fill out the form, sign the electronic waiver, and then mark your calendars to bring your trowels, planting augers and small shovels to Mount St. Mary Park on October 21, 2023.
YES! Sign me up to VOLUNTEER
Thank you to our generous
2021 Sponsors & Donors
2021 Donors
Steve Catlin
John Hoscheit
Jon Hull
In Memory of Dani Rachford by D303
Lindsay Gleason
Many thanks to our 2021 Volunteers
Chris Anderson
Rich Anderson
Betsy Anderson
Kim Anderson Curry
Manuel Arnell
Ron Asselborn
Judi Asselborn
Peter Ball
Jeanne Bereza
Karen Boyce
Bob Brautigam
Sharon Bringelson
Holly Cabel
Steve Catlin
Kara Clausner
Jennifer Comperda
Ken Comperda
Joe Cucci
Joy Davidson
Dinae Dewitte
Jackie Docimo
Shawn Dunne
Bill Dunne
James Enck
Naomi Gebremichael
Connie Goetz
Hannah Hagen-Gonzolez
Ted Hardison
Rick Harrison
Gary Heath
Leila Heath
Linda Heffrin
Hanna Hoffmeister
Donna Holloway
Joe Holloway
Tony Jeffever
Karen King
David Langowski
Dan Lasse
Ethan Liss
Malita Luca
Bruce MacCallum
Alice MacCallum
Dave Mack
Peggy McCarthy
Anirodh Maddu
Harvy Miller
Laurel Moad
Trudy Nichol
Jane Orr
Tom Owensby
Deb Owensby
Rita Payleitner
Paul Peterson
Mabel Peterson
David Pietryla
Gene Piraino
John Schmidt
Harrison Schneider
Scott Sciortino
Kevin Skeesick
Jill Sullivan
Mary Lynn Swanson
Bill Swedburg
Kathy Swedburg
Kelly Swedberg
Greg Swedburg
Tasmin Swinstead-Walker
Nancy Teichmiller
Michael Tillmans
Audrey Tillmans
Margaret Vandermyde
Sue Vilanova
Emma Webster
Beth Webster
Jason Webster
Nathan Webster
Ed Werneke
Carol Werneke
Bryan Wirball
Our MissionThe River Corridor Foundation of St. Charles supports and advocates for the projects that will enhance the downtown riverfront environment as a destination of cultural, educational, recreational, and economic opportunities that are accessible to all.
Copyright © 2023 River Corridor Foundation of St. Charles. All rights reserved.
Scroll